Listening a proper song while reading about the white town in Itria Valley
Whether you reach the town by car, bus or by train, Ostuni appears as a white vision in a sea of green olive trees. The historical center of the little town comes up as an island of white houses standing on the hill and enclosed by white walls that embrace and protect them from priers.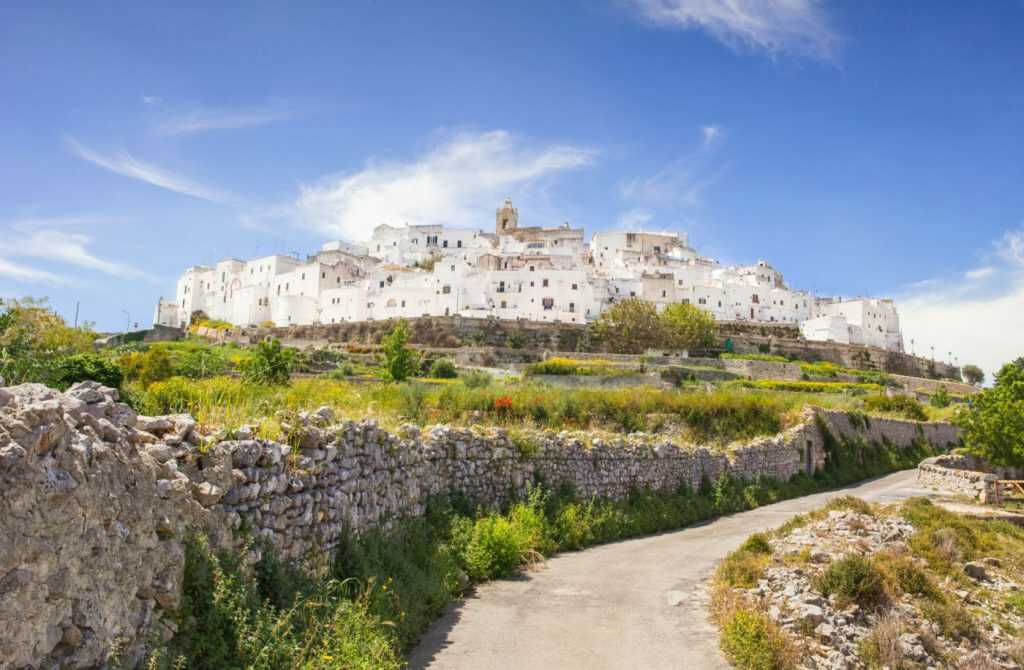 Who Buys in Apulia
A decade ago, Northern Italians were the first to seek deals on vacation homes in Apulia, back when a trullo in need of work could be had for as little as 20,000 euros ($22,600), Mrs Sabrina FRANCO (Your Italian Real Estate Agent) said. But now more buyers are foreign, from Britain, the United States and Australia, as well as Germany, France, Sweden and other European countries, broker said.
"It was just a week ago that a very nice family from Stockolm came visiting this gorgeous town and after comparing it with an amazing Spanish town decided to proceed with the purchasing of a 7 cones Trulli property."
Mrs. Sabrina FRANCO use to orginize things very well. She hosts people in her family owned Open B&B in Calabria so people can explore both Calabria and Apulia visiting also a little bit of Basilicata with the very ancient caved town of Matera.
Modern and recently opened, in the Roseto Capo Spulico Marina neighborood and just 150 meters from the sea, Open B&B is capable of interacting with people of different languages ​​and cultures, always respecting the individual characteristics of individuals … their religion, their sexuality, their beliefs. Open B&B also shows itself in the choice of furnishings and bathroom fixtures, which in a new way "open" to the use of guests … ready and available, just like the Host, who guarantees the necessary assistance for the time of the entire stay. Open B&B: a passage and a stop for anyone who travels along the trajectories of a journey and for those who love to indulge in relaxation, culture and sport breaks… where the transparency of the water confirms the cleanliness of the UN 20 times awarded"blue flag" sea.
Renovated Single Family Villa with Garden by the Sea Rosa Marina Ostuni Village Brindisi Itria Valley Puglia – www.obiettivocasaroseto.com – ​​The broker Sabrina FRANCO Agency Offers for Sale: Wonderful Renovated Single Family Villa of approx. 200 with a garden of 1300 square meters surrounded by nature with ancient trees and Mediterranean essences. Located in the renowned Rosa Marina Village, a small town served by all services and comforts with splendid equipped beaches, closed and supervised 24 hours a day. The villa consists of a large open space with fireplace where you can relax immersed in nature and sheltered from the sun, from the same, you enter the living area with kitchen and external exit to have lunch under the pergola and enjoy a good glass of wine or to share a dinner with friends. There are also two independent double bedrooms, two other bedrooms, two large bathrooms and two bathrooms equipped with systems. Outside: terrace overlooking the sea. garden, double entrance and barbecue area. Excellent investment for 899.000,00€ ( 1018530.00 US DOLLARS )
The property functions as a single-family home, but could also be rented to tourists, as many renovated trulli complexes in the Apulia region are.
Ostuni, known by tourists as the White City because of its whitewashed old town, is 10 miles north east. The beaches of Alto Salento and the Torre Guaceto Nature Reserve are about 5 minutes away. Brindisi's international airport is about 25 minutes by car, while Bari, a city of more than 300,000 with an international airport and a cruise port terminal, is just over an hour up the coast.
Buying Basics
There are no restrictions on European, American or Canadian buyers in Italy, although citizens of some countries face obstacles, making it easier to buy through a real estate agent.
Buyers may hire a real estate agency to assist them, typically for a fee of 3 percent of the sale price.
The closing of home sales is handled by a notary, for a fee of 2,000 to 3,000 euros ($2,260 to $3,400) paid by the buyer (please be aware every single time the Notary can offer a better fees cost)
In all, buyers should budget 10 to 15 percent of the sale price for closing costs including a 9 percent tax on the assessed value of the home if it is being used as a part-time or vacation home. Those buying a home as a primary residence pay only 2 percent.
To look for cheapest properties visit:
Websites
Languages and Currency
Italian; euro (1 euro = $1.18)
Contact
Sabrina FRANCO, Obiettivo Casa Real Estate Agency; @homesforsaleincoastalitaly
For weekly email updates on residential real estate news, sign up here.
Follow us on Twitter: https://twitter.com/obiettivocasa.